Dear ABC
Please find enclosed my application to join your Middle East reporting team.  I have attached a sample report from a Perth rally for Israel.  As a regular reader of your news reports, I am confident that my work matches the quality and integrity of your other journalists.
Yours sincerely
Gedalia
Perth Rally Sparks Israel Controversy
Hoards of Jewish extremists carrying placards and pitchforks staged a vigil in Forrest Place today.  They were accompanied by Freemasons, Rotarians, Christian evangelists, and economists.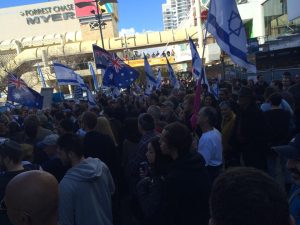 The cycle of protest over Israel's invasion and occupation of Palestine reached new heights during the obstreperous Jewish demonstration.
The incursion into a city centre, that the reactionary hard-line right-wing hawkish Steve Leiblich claimed to be under permit, provoked an angry response from media observers who happened to witness events at the time. Protesters who could not be independently verified said the City was being occupied in solidarity with Jewish settlers from Tel Aviv.
Counter protestors immediately demanded that the Jewish settlers leave the illegally occupied territory.  They claimed toxic paint had been used to prepare banners, which would lead to an increase in birth deformities, and lollipops that had been genetically modified by Rabbi's were handed out to young children.  They also condemned the obstruction of pedestrians, and a deliberate campaign to litter the area with bagel crumbs.  Security was in place for the rally, with surrounding police seeming to be far too concerned for potential harm to civilians, which ironically seems to be the whole source of this round of the Israel-Hamas conflict.
Mr Bob Kucera, rumoured to be a Mossad Agent who was placed into the police force and then Parliament by the powerful Jewish lobby, attempted to deflect attention from Israel's crimes by asking why nobody had protested the 320 Syrians killed in the past 24 hours.
Despite glossing over the impact of the Israeli invasion, and accusing Hamas of being "Terrorists", the majority of protestors avoided violent skirmishes with onlookers.  Calls for death to infidels, holy wars, bombing and genocide were muted to the extent that audio was unable to be obtained.   In response, the ABC has received complaints of media bias.  "The arrogance of your network is astounding. You act as though only supporters of Israel engage in rally's that actually demand peace and don't call for Jihad."
Perth is a Western Australian city, where almost no vandalous attacks against Jewish facilities or anti-Semitic assaults on its residents occur, however acts of liberation have been recorded with increasing intensity in recent months.  Comparisons have been drawn to the innocent and defenceless residents of Gaza.  In what military experts around the world are calling a bold, gutsy strategy, militants of the Hamas movement in the Gaza Strip are bravely taking the risk of positioning themselves among non-combatants, despite the risk that as a result Israel might not attack them for fear of harming civilians.
The Perth protest follows recent events in the Jewish community where solidarity theatre was produced by a talented cast with creative satire constituting an unimaginable social faux pas, and Jewish students met with political leaders to affirm their intention to leave for larger Jewish communities and not return to WA until they get married.
Since the Forrest Place protest ended, more than 62 people in Perth have died, including children, and more than 73 traffic accidents have struck the city.  No roads were destroyed by the eventual clearance of the protest site.