It doesn't get any bigger than this.
Bnei Akiva Perth celebrated its 30th anniversary in style on Yom Yerushaliem with a tefillah chagigit, celebratory dinner, and address by Rabbi Shlomo Riskin.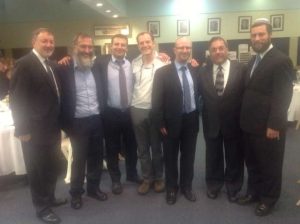 Photo: A selection of the world's best Jewish educators
Amongst all the Jewish organisations in Perth, the Zionist youth groups are the most important for developing Jewish identity and fostering leadership skills.  Bnei Akiva fills a particular need by bringing religious Zionist identity to the fore.
As noted by one of Bnei Akiva Perth's founder, Linda Solomon, who recounted the history of the Perth movement, it could not be imagined 30 years ago that this organisation would have such a profound impact on Perth Jewry.  In their own inimitable style the movement lists their accomplishments as follows:
Have had over 70 Madrichim

3 Fantastic sets of Shlichim
Sent over 80 Chanichim to Israel
Had over 20 chaverim make Aliyah
Had 7 couples get married within the Perth Bnei Snif
Have published over 400 editions of the chaver
Have run 57 Amazing camps
Delivered over 2,500 mishloach manot
Barbequed over 40,000 sausages
Cut down over 20,000 fronds of schach
Sustained 19,999 injuries from cutting down fronds of schach
Have spend 10000000000000 hours planning and running events, camps and fundraising
And so much more…..
Bnei Akiva remains the world's largest Jewish youth group.  It has brought individuals closer to Judaism, provided them with leadership skills, social skills, and life skills.  Bnei has provided many members of the Jewish community with knowledge, confidence and love of Judaism, and exposure to the balanced ideals of Torah and Avodah.  This infusion of Jewish religious living and its combination with everyday activities within the home, workplace, street, community and classroom brings forth the centrality of Jewish nation building and an understanding of its purpose. 
In honour of the occasion, Rabbi Riskin provided an outstanding oration about Yom Yerushaliem.  He discussed the emotive dilemma faced by Rabbi Yochanan ben Zakkai when acceding Jeruslaem to Vespasian for the sake of Jewish survival, and the Rabbinic account of the siege.  He went onto discuss the historic perspective of this event from the disciple of Rabbi Akiva from the viewpoint of the next generation.  Acknowledging both the metaphorical and physical kedusha of Jerusalem, that stands separate and elevated from the kedusha of Eretz Yisrael, Rabbi Riskin expounded the eternal element of Jerusalem.  He suggested that it was a universal Jewish role to communicate and live the values of Jerusalem and its Temple, a manifestation of G-d itself.  Whilst much of the world seeks human power, the morality of Jerusalem represents inter-human relationships that value the sanctity of the individual and their ability to bring forth peace.  The work of Bnei Akiva, as Rabbi Riskin suggested, is to realise the visibility and promulgation of this Jewish message.  As the namesake of Rabbi Akiva, and on Yom Yerushaliem, there is a generational aspect to the way in which Bnei Akiva approaches this task, and the way in which it takes a perspective of the reunification of Jerusalem.  This event, which occurred 46 years ago today, requires the prism of a new generation to provide the perspective and understanding of what the specific and special kedusha of Jerusalem means to the world today, amidst the political turmoil that surrounds us.   
Bnei Akiva Perth can stand proud of its accomplishments over three decades, and assured that its role in our community is now more important than ever.  As always, the movement shows that it knows how to celebrate in style, and it was indeed a huge privilege to share this occasion with modern orthodoxy's leading luminary.
Thank you Bnei Akiva, for all your work and for an outstanding 30th year celebration.  Michayil lechail, from strength to strength, we look forward to supporting your important and ongoing work.