Approximately 20 years ago New Zealand changed their electoral system to a proportional representation model, which has until now, delivered a minority Government complete with a kingmaker and a policy bidding process. Yesterday the voters of New Zealand discovered the strategic fortitude to deliver an outright majority.  They delivered a third term of office to the National Party, driven by factors including satisfaction with economic performance, strong leadership, a rejection of negative campaigning, and the realisation that a strong Government requires a strong mandate.
One of the most extraordinary moments of the election night was the concession speech by Labour leader David Cunliffe, the new "Kevin Rudd" of New Zealand, who acted as if his electoral thumping was a resounding victory. Like Australia, the left of New Zealand has lost its moral compass and with it, much of its traditional support base.  Labour in New Zealand has all the hallmarks of disunity, an inability to accommodate emerging and future leadership, and social policy that is both outdated and fiscally unsustainable. 
The smarts displayed by the New Zealand electorate do not stop with their punishing verdict of Labor. For example, a party to the right of National, ACT, got 0.7% of the vote.  Their leader came last in his own electorate.  Yet they remain in the Parliament because the central Auckland electorate of Epsom voted strategically and understood the dynamics of the political system.
Despite the bare visibility of the Jewish community in New Zealand, and the complete absence of a critical voting bloc of influence either on the list ticket or in any particular electorate, there were throughout the campaign a number of issues that impacted the New Zealand Jewish community. Some candidates publicly campaigned against Israel or defended the actions of those who are aggressors against Israel.  There were also unsavory instances of racism.
During the campaign, a BDS pledge was circulated and signed by 26 electoral candidates that, if elected, would require them to legislate for the NZ Super fund to require[s] the New Zealand Superannuation Fund to divest our taxpayer dollars from companies which profit from Israel's occupation of the West Bank."  Of most concern was the signing of this document by Mr Peter Dunne, as a sitting Government Minister from the minority party United Future. The NZ Jewish community was appalled. Mr Dunne has been a longstanding independent and a standing record as a reasonable MP, but his lack of understanding of BDS is alarming. The United Future was returned to the Parliament, and will likely feature in the next Government as a party without influence or clout. Even though they only got 0.2% of the vote (half the number of votes of Aotearoa Legalise Cannabis Party) Mr Dunne won his electoral seat.  
Also of concern to the New Zealand Jewish community was the blatant and personal anti-Semitic slurs directed against the Prime Minister. John Key acknowledges and respects his Jewish heritage (he is Jewish in accordance with halacha, his mother being an Austrian Jewish migrant) however does not identify as a practicing Jew.  Nor does he affiliate as a member of the Jewish community. John Key is the third New Zealander of Jewish ancestry to serve as Prime Minister, and members of the Jewish community also have a particularly impressive record of public service to the Mayoralty in many places, particularly Auckland.
Whilst there are not as many Jewish political activists now as they once were (on either side of the Tasman Sea) there is still a presence. The recent NZ campaign was marred by anti-Semitic activity, and concurrent with adverse (biased, ignorant and unfair) media coverage of the Gaza War, allowed anti-Semitism to flourish.  From protests in the street, to campaigns at Universities, to unchecked vitriol within op-ed commentary, there were many disturbing occurrences.  Here are how some of John Key's electoral posters were defaced: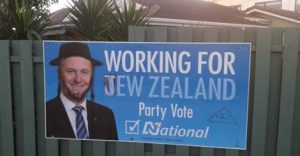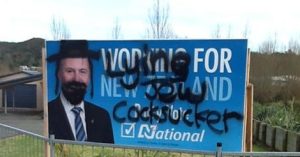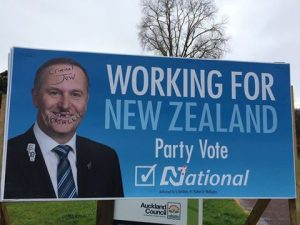 Thankfully, the NZ electorate were not blindsided by either racism or negative campaigning. Mr Key confirmed he is an outstanding and respected Prime Minister.
With the microcosm of electoral politics in New Zealand take a three year respite, the ecosystem of political science will take note of the demographic changes that have occurred in New Zealand. Some of the points to glean for the Australian voter (and Australian Jewry) are:
T

he continuing growing anti-Israel sentiment from the left of politics is not a trend unique to the Australian electorate
 

Strong leadership counts for a lot (and sadly, Tony Abbott is no John Key)
 

The Jewish community has a contribution of public service to politics, however the prejudice of the general electorate now manifests itself in a more overt manner, sadly bringing racism to the fore of personal political campaigning.
The voting public are more strategically savvy, and will collectively move to deliver a clearer mandate for Government. The experience of minority government, and kingmakers who can hold a nation to ransom is detested by the mainstream electorate and maverick players of this game are duly punished.
Democracy lacks a more suitable alternative, but whilst imperfect, is a cherished way of life that most of the world's population does not enjoy. It is an electoral cliche, but voters get the Government they deserve.