It's been an amazing Purim across the MiDYaN (Menora, Dianella, Yokine and Noranda), with some rave reports from all the shules about festivities.
First to kick off was Noranda Shule, who had a magic show, followed by some Hamentaschen, undisputedly claimed as the best in Perth. Next was the Perth Hebrew Congregation, whos Italian theme was very popular. The scent of the Pizza Oven could be smelt across Perth, and the jumping castle, arcade games and other magical surprises were rated by pundits as "the best Purim ever". The Chabad Circus theme also provided a big night, with face painting, hotdogs, and free flowing spirits. Also in the neighbourhood was the Maurice Zeffert Home and Dianella Shule, the latter hosting theatre sports where famous scenes from the Gemara were recreated. Bnei Akiva, and the students all had a big night out.
The festivities flowed into Friday, with a parade which included the Perth Yeshiva bochrim in the back of a Ute, blasting music into the street. The procession led to Carmel School where there was an acrobatic clown show.  The photo below shows how the clown, balanced on a cylinder, juggled a fire, knife and an egg, which he chopped into a flaming pan on his head!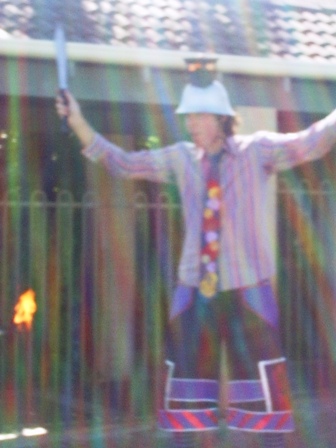 There were at least a dozen open Seudot on Friday afternoon, some of which flowed into Shabbat. Rumoured to be one of the best was the Bnei Akiva leaders, who with their shlichim engaged in some very aesoteric discussion over the text of the Megillah.
We are very fortunate to have had such an amazing collection of activities, and high levels of participation. It is also wonderful to have a public holiday, and a Purim Shabbat by which to study the incredibly powerful text of the Megillah. We are fortunate to read this text with the benefit of hindsight, and appreciate the mechanics of G-d's workings. When we see that there are no coincidences, and that the Megillah is more than just a good story then we can draw great inspiration. There can be no greater source of Jewish pride and joy than Purim.