Dear Mr Albanese
Last year you wrote an open letter to the Australian Jewish Community for Yom Haatzmaut in which you said "No matter which party is in power here, Israel will have Australia's friendship and support.  As leader of the Australian Labor Party, I can tell you that you will always have ours".
A little over a year on, I would like to reciprocate with an open letter back.  Today, Israel did not have the friendship and support of the Australian Labor Party, and as the Government of Australia you have wound back Australia's political position to one that is simply unfathomable.
I thought you would like to see this picture.  It was taken on Jerusalem Day, a few weeks ago.  It is at the Western Wall, a retaining wall of the Temple Mount, where every day for the past 2000 years Jews throughout history have prayed for a return of Jewish self determination over the site where Jewish tradition holds that Adam and Eve were created, where Abraham bound Isaac, and where the ten commandments were housed and where two Jewish Temples stood.
Thousands upon thousands of our people revere this site and on a daily basis celebrate the return of the Jewish people to their homeland.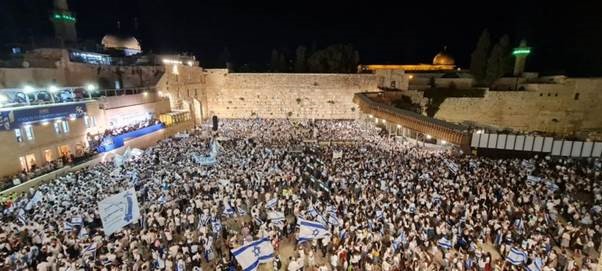 In 1967 Israel faced the threat of existential destruction, yet miraculously won the six day war and restored Jewish sovereignty to this land and the provinces of Judea and Samaria.  This has prompted a renaissance, an era of economic prosperity and agricultural restoration.  It has precipitated a hi-tech revolution of technologies that improve the quality of life and saves lives across the world.  It is an unprecedented story of a people returning to their land and building a nation based on the morals and values that align with those of Australia and are deeply respected by the Australian people.
Today your Government described this site in the picture above as "illegally occupied territory".  In short, your Government denied the irrefutable historic connection between the Jewish people and its sacred heritage.
It can't be that your foreign affairs advisors are unaware that since the start of 2023 more than 3,800 terrorist attacks have been perpetrated against Israeli's.  There have been 30 Israel's murdered during this time through direct acts of terrorism.  Thousands of missiles have been launched towards Israel, many of them intercepted in the air.
Since the days of the Oslo Accords, and the subsequent offers of peace by Israel to the Palestinian people, the Palestinians and their governing bodies have breached their obligations towards the peace process.  They have continued to refuse to accept the existence of Israel.  So Israel and its people have moved on.  They have embraced a regional strategy of coexistence and economic prosperity through the Abraham accords, assuming that when the Palestinians are finally ready to live in peace that they too will be rewarded.
The Australian official policy change rewinds this progress and incentivises more hatred.  It has the effect of encouraging more terrorism.  More murder and maiming of people.
The ECAJ and ZFA, the representative peak bodies of the Australian Jewish community today issued a joint statement that correctly noted that "The change in language is inaccurate, ahistorical and counterproductive."  They were quoted rather diplomatically as saying that they are "deeply concerned about the Government's statement".
I would like to go a little bit further because this Jewish Australian is well beyond deeply concerned.  The Government's statement is an outrageous insult to all well intentioned Australian's whose values of freedom and liberty have been breached.  This change of position is a bastardisation of fact and a geopolitical mistake.
This land that you now deem as "illegally occupied" is in fact "disputed".  For Australia to assign a position to this dispute, while at the same time trying to suggest it is for the parties themselves to resolve is at best hypocritical.  At worst, it is siding with a tyrannical regime, perpetuating conflict and rewarding terrorism.
Australia's stance on Israel is no longer bipartisan, it is no longer reasonable, and it is downright dangerous.
With enemies like the official leadership of the Palestinian Authority, Israel and its Jewish Diaspora actually needs the friendship and support of Australia that you as the leadership of the Australian Labor Party promised.  With deep regret, today you have committed a grave historic injustice against the Jewish people.
Language as you well know is important, because it extends a voice.  So, if you really want to take sides how about adapting your own words to give a voice towards the legitimacy of Israel instead of denying its legitimacy?
How about Australia pays respect to the indigenous people of Israel, their elders, past, present and emerging, and acknowledge the land upon which they have an unbroken spiritual connection?   How about a moving show of faith in Australian decency and Australian fairness to a people who have been given every reason to forsake their hope in both?  How about we approach this task with humility and hope, because over 2000 years of broken promises and betrayals, failures and false starts demand nothing less?
It is time Mr Prime Minister to tell the truth – with clarity, with conviction.