More than a dozen of my social media feeds are pouring with tributes for Simon Peres ZL.  When reading through the massive contribution he made to the modern State of Israel it makes one pause and reflect on just how much one person can accomplish if they remain true to their ideals and persist.
Rightfully, Shimon Peres is being remembered with reverence and respect from those posting personal tributes, and similarly across the Israeli media his accomplishments are being listed without political rhetoric.  Nothing less would be expected.  Many have obligatory disclaimers such as "I didn't agree with his politics" or "I was critical of the Oslo process", but nonetheless, they recognise that Shimon Peres defended Israel, pursued his dream of peace, delivered much of Israel's defence establishment, and championed the economy.  As President he remained a Statesman and left an impressive legacy.
One of my colleagues, it would be an understatement to say he objected to the politics of Peres, posted a statement "Great people make great mistakes. Others can then sit around and complain about the mistakes, while forgetting all the other achievements.  Shimon Peres, Baruch Dayan Haemet."
I was brimming with pride that the universal values of Jewish unity hold tight.  In historic moments, when tragedy strikes Am Yisrael, our common bond emerges.  As Jewish people we know how to argue and vociferously put forward strong views and disagreements.  However when those moments come by that make it appropriate to set aside our differences and share a collective sentiment, this we are able to achieve.  It is a noble characteristic that pervades the Jewish psyche.
My contentment was shattered when I jumped onto the mainstream media.  The Australian, true to media style, had a headline lead that read "Contradictions of Shimon Peres.  Shimon Peres was one of the world's great statesmen. But why should we remember him and what did he really achieve?"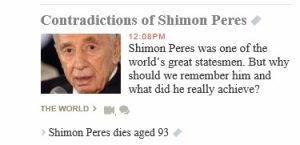 Even before linking into the article there was a statement framed in the negative.  Before the obituaries commence the legacy is presented with a question mark and not an explanation mark.
Perhaps this is one of those many examples of where Jewish values and secular values differ. During a time of grief the Jewish nation will mourn, reflect, and respect the contribution of the deceased.  Their family will be comforted and their memory will join all of Zion and Israel and the mourners of Jerusalem.  Our detractors will not express such empathy.  They will not find solace in death.  They will continue to speak ill of a person living or dead, as if human life is not sacred, solemn, and unique to each soul with whom we share our experiences.
Shimon Peres, as a young child in person, received a bracha from the Chofetz Chaim in Poland.  In the span of one lifetime, Shimon Peres arranged weapons for Israel in the 40s and 50s, created Israel's nuclear capability in the 60s, contributed to economic reform in the 1980s, engaged the Oslo process in the 90s, and served the Presidency in the 2000s.  What an incredible life to lead!
Of the many quotes made by Shimon Peres that are streaming, one notable statement is "Optimists and pessimists die the exact same death, but they live very different lives"
Perhaps, in this time of preparation for Rosh Hashana this is a lesson to take heed of.  It is a message we can internalise, and perhaps one that our non-Jewish counterparts should also take to heart.
May his memory be a blessing.