Last week Prime Minister Anthony Albanese issued a statement that said hateful prejudice has no place in Australia and that his Government was committed to keeping the Jewish community safe.
That same day my friend's daughter came home from the University of Western Australia with a pamphlet from the student guild which included the following text "Israel PM Benjamin Netanyahu has declared Israel will launch a full scale war on Palestine for the humiliation it suffered on Saturday when Palestinians from Gaza tore down apartheid walls and began to enter Israel: land from which their families were forced to flee in 1948."
Not a word of the inhumane terrorism and embodiment of evil. Given the people in her class and their hostility, that student is now too scared to go back to class and wants to withdraw from her course.
The Australian Union of Jewish Students (AUJS) WA President Grace Ehrenfeld has noted that over the last nine days since the Hamas massacre that over half of the WA Jewish students that are members have individually reached out to the AUJS executive for support, information and incident reporting.
Late last week the WA branch of AUJS went into overdrive when the following letter was issued to all students.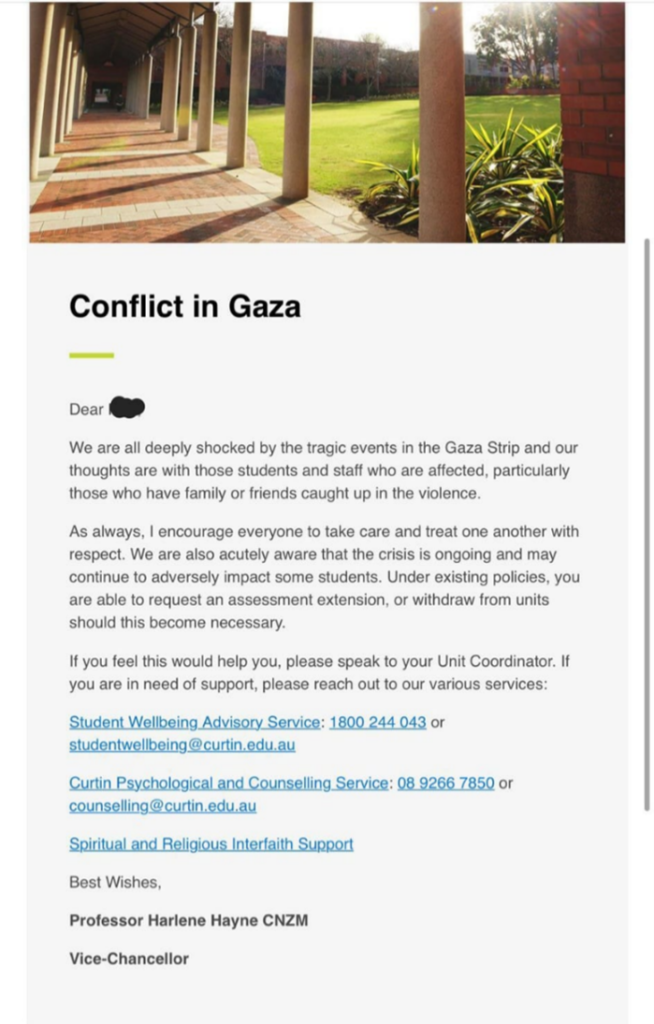 Curtin University Statement on Gaza
The letter triggered a flurry of activity from concerned Jewish students, whose social media sparked disbelief and anger. The communication stated that the tragic events in the Gaza Strip were shocking, but there was silence about the massacred populations of Israel.
What then followed was a series of communication blunders that would be comical if the situation itself was not so serious.
Representation was made by AUJS to the Curtin University multi faith officer, who the students described as "fantastic, very understanding and supportive". Concurrent communications were made to the Vice Chancellor, including a message from Perth's senior Rabbi. The Vice Chancellor did apologise noting the communication should never have been released. However, the internal communications were not working well, and due to time pressures the checks and balances and internal signoffs of communications appear to have been disregarded.
A second communication came out that reinforced the message of the first, and still did not reference or condemn the massacre in southern Israel.
Further representations were made, and yet a third communication was issued which also failed to apologise or acknowledge the atrocities against Israel.
In a spirited display of leadership, the executive committee of AUJS held a somewhat heated and intense phone conference with the Curtin executive. They made the point that throughout the Voice campaign strong and valid points about minority communities needing to be consulted and listened to had been made. Yet AUJS is also a minority community, and had not been either consulted or listened to throughout the corporate communications debacle.
It needs to be pointed out that Curtin University made administrative blunders and their actions were exacerbated out of ignorance and not malice. It was not the intention of the Vice Chancellor to marginalise or victimise the Jewish students, but their unfortunate succession of communications still caused much distress and anguish for the student body.
AUJS also reports that the Curtin Student Guild (of which membership is compulsory) has had ongoing adversarial interactions with AUJS in the lead up to recent events. They have previously made it clear that their policy position considers Israel to be an apartheid state, which is an anti-Semitic slur within itself. However interaction with new people involved in the Curtin Student Guild over the past week has been more concilatory.
Ms Ehrenfeld has also said:
"During the present conflict, we have taken preventative action, by meeting with the University Board and Chancellory to implement a wide range of mechanisms from mental health support, to security awareness, to guaranteed special consideration without a medical certificate. The new Guild leadership has also been very helpful in tackling incidents within the minute they arise, with security removing posters on Monday morning.
The AUJS UWA executive has had the benefit of witnessing what has occurred at Curtin, and at many universities around Australia regarding Jewish student wellbeing and rise in antisemitism. We have also learnt from previous years how easy it is for the student body to turn against us. In May 2021, AUJS had to defend ourselves against offensive Guild motions, an 'Israeli apartheid' exhibition in the centre of campus, and many rallies being promoted in recognition of the Nakba. In 2021 we also lost the IHRA definition of antisemitism, as the Guild spoke over us, told us that our definition is wrong, and reverted it once we left the meeting."
Elsewhere in Australia the situation appears to be far worse than Perth. It comes as no surprise that our university campuses can be a hotbed of radicalism and a cesspool of anti-Semitism, a situation which has festered for decades.
Even before the horrific events of last week, research was released showing widespread anti-semitism in Australian universities. National AUJS President Alissa Foster said "People are scared to be publicly Jewish. It's small comments that get made in tutorials, when walking to class, in SRC meetings, and you want to brush it off, but you can't because it keeps building and building and building. You're being targeted for a fundamental part of your identity."
JewglePerth scanned Australian universities for public statements released in the past week. Many are silent. Some like Monash University specifically condemned the Hamas massacre. Others, similar to Curtin University attempted to be balanced and offered generic statements relating to "both sides" or "all students impacted".
Rabbi James Kennard, Principal of Mt Scopus College made representation to Deakin University. He noted that the University has replaced their notice of offer of help to students "affected by events in Gaza" to one which says "Deakin University is horrified by the attacks on Israel by Hamas which have caused profound destruction, loss of life and left so many civilians injured."
A statement issued by LaTrobe university acknowledges increased reports of anti-Semitism, but was also generic in nature. The terminology makes reference to "Israel and the Occupied Palestinian Territories". This shows the University taking a political stance on occupation, favouring a Palestinian narrative over an Israeli narrative.
Whilst sensitivities are high, it is the attempt to balance activity and communications which impart a moral equivalence between the worst type of terrorism and defensive combat that is causing harm. Our Jewish students aren't wondering about "both sides" or political advocacy right now. They are only concerned about their safety. They are at pains to understand how pure evil cannot be condemned in its own right.
For institutions that advance the cause of humanity, and often take a social stand, the level of responsibility is high. We do our best to avoid making comparisons to the Holocaust in order not to demean the Holocaust. However, it is very hard not to conclude that the demonisation of Jews in the lead up to the Shoah was based on speech, policy and social acceptance of the unacceptable, and this is what we are now seeing on the other side of a massacre driven by unimaginable hatred.
Our students are being slurred with anti-Semitic chants and literature. At an institutional level the type of communications which have been issued send an undertone message of "both sides are at fault, but this is because of what Israel does to Palestinians and therefore they deserve it." Our universities need to understand that in the current climate Israel is not "retaliating". It is trying to rescue captives and eliminate terrorists. History teaches that if a stand is to be taken, then it should be in support of freedom and liberty.
JewglePerth congratulates the leadership of AUJS on standing up for what is right, and holding the corporate communications of Curtin University to account. Jewish communities everywhere should look to these students as an example of how to tackle anti-Semitism on campus head on, no matter how seemingly innocuous, or what circumstances sit behind it. Words are important, and Jewish students must not be marginalised. They also deserve to be safe, not just based on statements and platitudes, but through the substance and action that follows the rhetoric.
It is time for the governors, funders, political representatives and communities of Australia's tertiary sector to assert true responsibility for the security and wellbeing of Jewish students. Free speech is important, but it has responsibilities, limitations and boundaries. When it becomes offensive and racially vilifies then a line has been crossed and the right to free speech must then be revoked.
A cry of "from the river to the sea", whether in the University quad or on the city streets is a call for the elimination of Israel and therefore for genocide. So too is an allegation that Israel has occupied Palestinian land for 75 years. These words need to be interpreted for what they are, and these words must be treated as and acted upon as hate speech.
As Mr Albanese says, there is no place in Australia for anti-Semitism.