The recent storm in a teacup between the New Israel Fund claims of censorship by The Maccabean led to, typical left wing conspiracy hysteria. Nothing new here, the left constantly play the victim to draw attention to a spurious cause, founded on lies, deception and propaganda.  
Another movie is now being promoted and this time The Maccabean approved the advert !!
If the NIF need some assistance understanding why there abhorrent views should not be welcome in any community look no further than these two examples.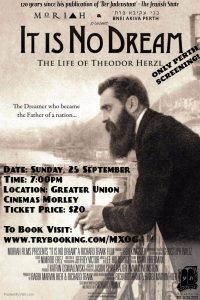 Is it s no Dream – The Life of Theodor Herzl, exploring the life and times of Theodor Herzl, father of the modern state of Israel. Narrated by Academy Award winner, Sir Ben Kingsley and starring AcademyAward winner Christoph Waltz as the voice of Theodor Herzl, the film examines how Herzl, a well known journalist and playwright, an assimilated, Budapest born Jew, horrified by the Dreyfus trial in Paris and the anti-Semitism he saw spreading across Europe, took upon himself the task of attempting to create a Jewish homeland in Palestine against all odds. Over the span of 8 years, Herzl organized and led a worldwide political movement that within 50 years led to the establishment of the state of Israel. The film follows Herzl as he meets with Kings, Prime Ministers, Ambassadors, a Sultan, a Pope and government ministers from Constantinople to St. Petersburg, from Paris to Berlin, from Vienna to Vilna in his quest to build a Jewish nation.
Without question Theodor Herzl was a hero, his hard work and dedication paved the way for the Modern state of Israel as we know it.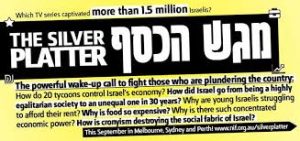 The Silver Platter – The powerful wake-up call to fight those who are plundering the country: How do 20 tycoons control Israel's economy? How did Israel go from being a highly egalitarian society to an unequal one in 30 years? Why are young Israelis struggling to afford their rent? Why is food so expensive? Why is there such concentrated economic power? How is cronyism destroying the social fabric of Israel? Watched by more than 1.5 million Israelis, "Magash Hakesef" (The Silver Platter) is one of the most exciting TV mini-series to come out of Israel in recent years.
Economic injustice exists in every country on the face of this planet, it is not unique to Israel. Australia is controlled by an elite group of business people and networks, however there are also plenty of opportunities for everyone. These opportunities are there for the taking. Complaining about not having a chance to succeed, is irrelevant, when you are unable to help yourself, because your lack of vision causes you to focus on being a victim. BOOM !!
Just for kicks Google "NIF Theodore Herzl" and the first record that shows up "The Perversion of Theodor Herzl – New Israel Fund"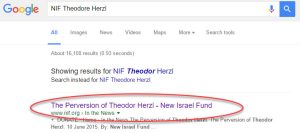 which ultimately takes you to an article that is as much an Israel bashing exercise as we have come to expect from The NIF.
Some things never change but exposing them at least balances the equation.